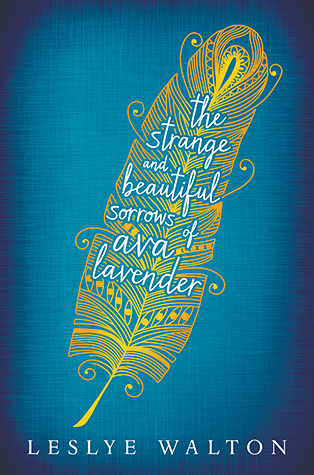 Summary:
Foolish love appears to be the Roux family birthright, an ominous forecast for its most recent progeny, Ava Lavender. Ava—in all other ways a normal girl—is born with the wings of a bird.
In a quest to understand her peculiar disposition and a growing desire to fit in with her peers, sixteen-year old Ava ventures into the wider world, ill-prepared for what she might discover and naïve to the twisted motives of others. Others like the pious Nathaniel Sorrows, who mistakes Ava for an angel and whose obsession with her grows until the night of the Summer Solstice celebration.
That night, the skies open up, rain and feathers fill the air, and Ava's quest and her family's saga build to a devastating crescendo.
First-time author Leslye Walton has constructed a layered and unforgettable mythology of what it means to be born with hearts that are tragically, exquisitely human.
No Spoilers:
First of all, I was really excited when I realized that this book was set in the state that I live in!  Secondly,  This was just an amazing story.  All I really knew before starting was that it was about a girl born with wings.  I mean that's probably enough to catch anyone's attention.
This book told the story of not only Ava, but her great-grandmother, grandmother, and mother.  It doesn't matter if you hate someone or love them,  you will have very strong feelings towards someone.  I doubt many people who read this story agreed with the mothering performed by any of the women in the Roux/Lavender family.
Ava is by far one of the most likable characters in all of YA and not just because of her wings.  She is a very strong girl and wants to take her precious life into her own hands without the help of anyone else.  She realizes that everyone just wants to keep her safe but she also wants to live her life like any other teenager would, going to parties and making friends.
I would recommend this book to anyone who likes Historical fiction such as Miss Peregrines home for Peculiar Children by Ransom Riggs.
Spoilers ahead!!:
Okay, so it was a little hard for me to get into this story at first because  I just wanted to read about Ava, but as I got deeper into it I started to really enjoy the background.  the poor family had so many failed loves through the generations that by the time it got to Ava, her mother just gave up.  "Love makes us such fools.",  Love only took Ava hostage once or twice and she recovered rather well from one of them…
I did cringe during a majority of this half of the book, so did you.  I mean, Nathaniel was a crazed freak who pleasured himself to a pillow! I wanted to puke!!!
The ending honestly broke my heart into a million pieces.   I don't even want to talk about it, I'm assuming since you're reading this, then you've already read the book so I don't want to break you all over again.
Rating
5 stars