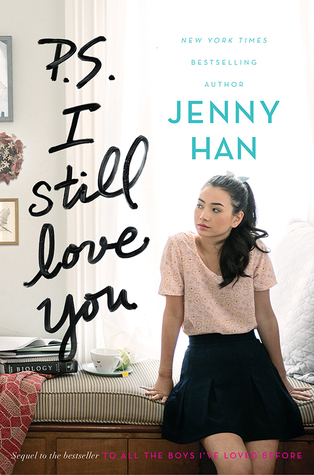 (IF YOU HAVE NOT READ THE FIRST BOOK IN THIS DUOLIGY, DO NOT READ THIS SUMMARY OR REVIEW BECAUSE IT WILL SPOIL YOU!!)
Summary:
Lara Jean didn't expect to really fall for Peter.
She and Peter were just pretending. Except suddenly they weren't. Now Lara Jean is more confused than ever.
When another boy from her past returns to her life, Lara Jean's feelings for him return too. Can a girl be in love with two boys at once?
No Spoilers: 
P.S. I Still Love You is the sequel to To All the Boys I've Loved Before which if you haven't read you probably should stop reading this review now.
This book starts off right where we left off in the first book.  Lara Jean is at Peters house and just wants to fix what happened.  I am just completely in love with Jenny Han's writing!  It makes you feel all gushy at just the write moment and you really connect with her characters.  Lara Jean is pretty easy to relate to and she made me feel like we could be best friends.
Spoilers Ahead!!:
So I feel like Jenny Han could squeeze a third book out of this just because of the whole Genevieve situation.  I mean we got answers as to why she is such a bitch but it was a pretty crappy reason.  Like Genevieve, that was 5 years ago GET OVER IT!!! And you can't blame Lara Jean for being suspicious.  Peter was being kind of shady for a majority of this book and if you saw your boyfriend/girlfriend holding they're ex and not knowing whats going on, you'd be upset too.
I loved when they played Assassins!! That was probably my favorite part about the whole book honestly.  And OH JOHN!! Talk about swoon worthy guys.  I think we all found ourselves shipping John and Lara Jean.  Just admit it.  The forties party was basically the time where if you weren't shipping them, then you did then.
I'm so glad that we got to see all of the complication of a relationship in this book and the ups and downs.  All in all, this is one of my favorite contemporary-ish books that I've read so far this year.
Rating:
5 Stars