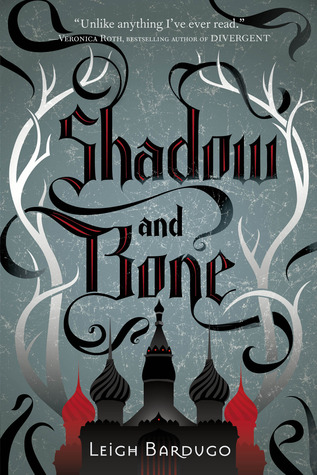 Summary:
Surrounded by enemies, the once-great nation of Ravka has been torn in two by the Shadow Fold, a swath of near impenetrable darkness crawling with monsters who feast on human flesh. Now its fate may rest on the shoulders of one lonely refugee.
Alina Starkov has never been good at anything. But when her regiment is attacked on the Fold and her best friend is brutally injured, Alina reveals a dormant power that saves his life—a power that could be the key to setting her war-ravaged country free. Wrenched from everything she knows, Alina is whisked away to the royal court to be trained as a member of the Grisha, the magical elite led by the mysterious Darkling.
Yet nothing in this lavish world is what it seems. With darkness looming and an entire kingdom depending on her untamed power, Alina will have to confront the secrets of the Grisha . . . and the secrets of her heart.
No Spoilers:
So this was the third time I picked up Shadow and Bone and I am so glad I did.  I think the only reason that I stopped reading it those other two times was because I didn't get far enough into it.  Really you only need to read the first 30 pages to get hooked.
You're sort of just thrown into this world and it becomes a bit confusing at the beginning but as soon as you pick up on the roles and such it's really interesting.  I do love the world a lot!  I got a very Throne of Glass vibe from the world which was really interesting.
I had strong feeling for pretty much every character in this book, strong, and bad.
Spoilers Ahead!!:
OK, so.  At the beginning I was kind of iffy about Mal and I didn't really ship him and Alina together.  And I'm not completely sure if I do even now.  The way how the book explained how Alina pushed down her power so she could stay with Mal really made me question her power.  I do love their friendship though, like I really started to ship Alina and the Darkling together and just have Mal be her BFF but then the Darkling had to go mess everything up and be evil!!  I loved the Darkling so much!  as I was reading, I was basically like OK I get why people love him but now I'm not so sure.  I hope he gets better soon!
Zoya was rude.  I am kind of sad that we didn't go too deep into her character because for her sake, I hope there's a good reason why she's such a B.  I was really happy when Zoya attacked Alina, not because Alina got hurt but because it showed that Zoya has an ice heart and how jealous she was.  I also would really appreciate a good list of the social status's comparing to the color of their Keftas because I am really confused.   I was actually disappointed in myself for not realizing that Baghra was the Darklings mother.  I loved how she didn't give a crap about his power and was just really sassy to everyone.
I completely fangirled at the kiss by the pond/lake because at that time I was shipping Alina and the Darkling so much and that was just the icing on top of the cake.  I loved how he got all shy after and  I just thought that was really cute.  Then he had to just go and ruin it!!!
When Mal came back I was really confused.  I didn't connect the fact that the Darkling asked Alina about his tracking skills and then he showed up at the palace and I thought that was weird.  I was so angry when the Darkling showed up and killed the Morozava because for that split second  I actually thought that they were going to find another way to amplify her power. The Darkling has just been ruining everything at this point but oh he's not done.
I thought he was going to be nice again and at least let Mal leave and go away but no he basically sentences him to death by Volcra.  I was getting so mad when the Darkling was overpowering Alina and just using her but then she goes all kick ass and runs away with Mal.  Obviously the Darkling isn't dead because there's two more books and he needs to redeem himself.
I'm really excited to read the next two books as soon as possible and get all of my questions answered.
Rating:
4 Stars