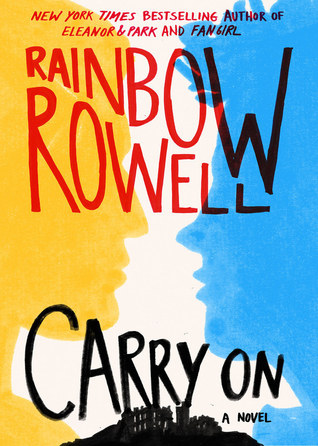 Summary:
Simon Snow is the worst chosen one who's ever been chosen.
That's what his roommate, Baz, says. And Baz might be evil and a vampire and a complete git, but he's probably right.
Half the time, Simon can't even make his wand work, and the other half, he sets something on fire. His mentor's avoiding him, his girlfriend broke up with him, and there's a magic-eating monster running around wearing Simon's face. Baz would be having a field day with all this, if he were here—it's their last year at the Watford School of Magicks, and Simon's infuriating nemesis didn't even bother to show up.
No Spoilers:
This book. This book. The amazing writing style of Rainbow Rowell blows us away once again in this extremely well thought out world that pulls you in right from the start. Not only was this story full of magic and friendship, but Rainbow has taken such an unlikely romance and made it work beautifully. These characters are the kind of complex people who aren't so complex that you forget whats going on but are easily distinguishable and I think that's one of the most important things in a multiple POV book.
I recommend this to someone who may be looking for a more modern and reference filled take on Harry potter (not that its the same because its totally not) or a fan of cute but complicated relationships.
Spoilers Ahead!:
Carry On will definitely be in my top three books of this year and not just because it reminded me of Harry Potter (a little). I mean with the magic school and wands, you kind of have to compare it a bit. But this story was so unique and amazing that it shouldn't even compared to the equally amazing Harry Potter.
Can we all just talk about chapter 61 for a minute? I loved that entire chapter so much, I thought that Baz was going to be the one to kiss Simon but I was wrong!! Simon really surprised me when he kissed Baz and both of their reactions and internal dialogue were so touching and hilarious.
Lets also talk about Penny! I honestly loved her so much, her friendship with Simon and her protectiveness towards him were some of my favorite parts of the book.  Now Agatha, I didn't like her at all even from the beginning but that might have been because I already knew that Simon and Baz were canon. I thought it was actually really obvious that Lucy was Simon's mother, I guessed that as soon as Agatha described her in the picture (maybe she had one purpose) and that The Mage was his father of course.  The Mage was just a terrible person in general and I don't think anyone actually liked him ha.
Basically, I loved this book so much and I am beyond happy that Rainbow had decided to write this and fulfill everyone's greatest wishes and meet their highest expectations.
Rating:
5 Stars