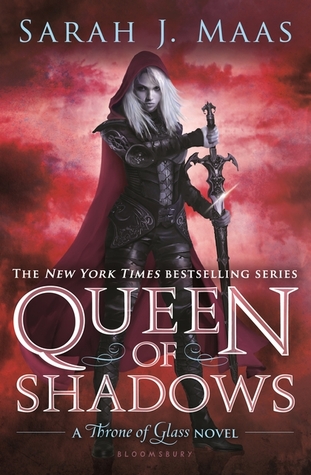 (WARNING: Do not read the summary of this book if you have not read the previous books in the Throne of Glass series)
Summary:
The queen has returned.
Everyone Celaena Sardothien loves has been taken from her. But she's at last returned to the empire—for vengeance, to rescue her once-glorious kingdom, and to confront the shadows of her past…
She has embraced her identity as Aelin Galathynius, Queen of Terrasen. But before she can reclaim her throne, she must fight.
She will fight for her cousin, a warrior prepared to die for her. She will fight for her friend, a young man trapped in an unspeakable prison. And she will fight for her people, enslaved to a brutal king and awaiting their lost queen's triumphant return.
No Spoilers:
Sarah J. Maas never fails to surprise me with her wonderful and unique writing. Though this book was a monster, I enjoyed every minute of it. I really had to pump myself up before starting this book (for the third attempt…ha) because you really need to be willing to let go and be yanked back into the world of fae, witches, and demons. I think that this book really expanded the world of Throne of Glass even more than Heir of Fire did and did a fantastic job. With Swoon worthy characters and action pact battles, Sarah has once again captured the attentions of readers around the web.
Spoilers Ahead!:
Queen of Shadows was quite the emotional roller coaster for me but I'd be happy to do it all over again.  Sarah is such a fantastic writer, she made me love and respect a blood hungry witch who tears out men's throats for fun. Lets talk about Manon for a second. As soon as she was introduced in Heir of Fire I knew I was going to love her. I love how she interacted and cared for Elide and her thirteen. I was always hoping that her and Aelin would become BFFL's and I suppose that could still happen…maybe. 
I was a hardcore Chaoleana shipper for the longest time until this book. Chaol started to get annoying to me because of his naive and dumb remarks, but eventually he came around and showed me why I loved him in the first place. Rowan started growing on me about halfway through because you really start to see the connection he has with Aelin. So now I pretty much approve of Rowaelin since my OTP was shattered but now I guess I can consider them as a BROTP.
 I was beyond scared that Dorian was too far gone to be saved. Through out the book I was just thinking that even if they found a way to free Dorian that he wouldn't be the same, and I guess he's not. The scene on the bridge with Dorian, Aelin and the king really made me question my entire thinking process when it was reveled that the King was under the possession of a Valg all along. I didn't blame Dorian when he didn't believe him because, lets face it, the king was basically a horrible person for his entire life. No one could find the body of the King after the castle shattered so that makes me question if he really died. 
There are so many little things that I loved about this Beast of a book. Like Lysandra and Aelins friendship, the sassyness, and that little scene at the end with her, Dorian and Chaol that ripped my heart to shreds.
I'm excited to see what the next book in this series has in store and I can't wait to see Terrasen through Aelin's new found eyes.
Rating:
5 Stars