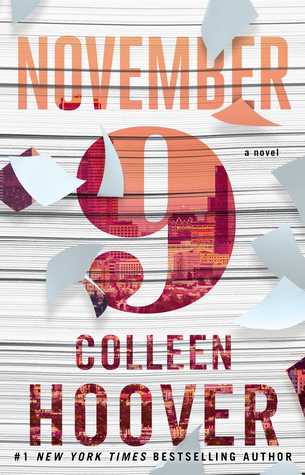 Summary:
Fallon meets Ben, an aspiring novelist, the day before her scheduled cross-country move. Their untimely attraction leads them to spend Fallon's last day in L.A. together, and her eventful life becomes the creative inspiration Ben has always sought for his novel. Over time and amidst the various relationships and tribulations of their own separate lives, they continue to meet on the same date every year. Until one day Fallon becomes unsure if Ben has been telling her the truth or fabricating a perfect reality for the sake of the ultimate plot twist.
No Spoilers:
And here marks the first check on my Colleen Hoover Project. I'm not usually a Chick-Lit lover because I always find that the stories start repeating themselves and become quite predictable but November 9th was neither of those things. Like Fallon, I too dislike instalove in books. One of the best things about this story is how it's timed and how it makes you want to keep it in front of your face until you reach the end. This is my first Colleen Hoover book and I don't think I could have picked a better one to start off this new found obsession. Throughout the story, you could feel the pull of these two characters coming together over the course of six years. You begin to fall in love with the romance and get lost in all the wonderful and love filled quotes thrown strategically in. I would recommend this book to lovers of romances full of twists, turns and mysteries.
Spoilers Ahead!!:
This book utterly destroyed me more than once. There were so many ups and downs in this story that gave me hope, ripped it up, and taped it back together in the end.
Romance is one of my guilty pleasures in life and I'm only slightly ashamed to admit it. I'm a sucker for a good, thought out romance that has good quotes and more than one interesting factor. I immediately fell in love with Ben the writer, his smooth words and out there attitude made him a swoon worthy book boyfriend. Fallon was such a relatable character when it came down to it, she was easy to connect with her feelings, decisions, and actions. Even her bad decisions were justified somehow like when she decided that running away from Ben when she read the prologue rather than letting him explain. She was afraid of him at that time and she made the best choice for herself.
I loved reading from both of these characters points of view and seeing the different levels of their relationship over the years. Even if it left me heart broken at some points and wanting to crawl in a hole and cry. There were so many happy moments in this story, including the second November when Ben got the tattoo with so much meaning behind it. His manuscript was one of the things that really did break me. Seeing how much he went through at only sixteen, and all the questions that Fallon and I both had finally being answered. It was a huge relief when we learned the Fallon forgave Ben and had made the choice to live out her days with him. A perfectly planned happily ever after.
Rating:
5 Stars
Favorite Quotes:
"When you find love, you take it. You grab it with both hands and you do everything in your power not to let it go. You can't just walk away from it and expect it to linger until you're ready for it."
"She "loved me" in quotations She kissed me in bold I TRIED TO KEEP HER in all caps She left with an ellipsis . . ."
"It took four years for me to fall in love with him. It only took four pages to stop."