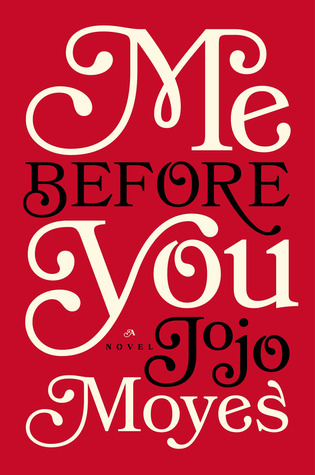 Summary: 
Lou Clark knows lots of things. She knows how many footsteps there are between the bus stop and home. She knows she likes working in The Buttered Bun tea shop and she knows she might not love her boyfriend Patrick.
What Lou doesn't know is she's about to lose her job or that knowing what's coming is what keeps her sane.
Will Traynor knows his motorcycle accident took away his desire to live. He knows everything feels very small and rather joyless now and he knows exactly how he's going to put a stop to that.
What Will doesn't know is that Lou is about to burst into his world in a riot of colour. And neither of them knows they're going to change the other for all time.
No Spoilers:
This story really is about the struggle of a man seeing no life ahead of him after his accident and no reason to go on. Will Traynor is an extremely important character who something terrible has happened to and throughout the story, really opens up our eyes to the difficulties he has to go through daily. Though it seems like a dark topic, I had so much fun reading this story and honestly fell in love with these characters within the first few chapters. I did watch the trailer for the movie (which you can watch here) before I read the book so I already had the faces of our two main characters made up for me. Trust me I am not mad about that because Emilia Clark and Sam Claflin are two beautiful people and I think fit these character perfectly. There are so many AMAZING and fun scenes in this book I just never wanted to put it down. I do really like how every character we meet become very well developed and I appreciate that they aren't just filler characters. Overall, I loved this book to pieces and I would recommend this to everyone even if you don't like romance, their friendship is so heart warming that you will long for.
Spoilers Ahead!!:
This book broke me. I just want to say how cruel it was that the way this story was going, it gives you so much hope like "oh oh oh maybe he won't do it". You know  I knew it would happen but because of that hope, I was in denial of the ending. I was really happy that the book wasn't all sad and there were so so many happy moments with Lou and Will. The scene at her birthday dinner when Will came over might have been one of my absolute favorite parts along with the storm scene. I was so touched when he gave her the bumble bee tights and how happy she was that he remembered how much she loved them as a child. The wedding scene was amazing when they were dancing and I just wanted to cry at how adorable they were and how high my hopes were at that point. I was really bummed that they didn't get to go on their vacation that Lou had planned but in the end I think their smaller trip was even better. I really loved when Will would push her out of her comfort zone like making her her go snorkeling. Will was just such a good friend to her even when she didn't think she needed one.
I guess it's about time to talk about the tear jerking scenes. I may have cried a lot in this book but one part that was basically sobbing was when Lou went back into the maze she was raped in. It goes between her being in the maze alone to flashbacks to the night she was raped and I was crying right along with her throughout that entire scene but I am so happy that she confided in Will about that night and allowed him to convince her that it wasn't her fault and it didn't define her. Another scene was when they were on vacation and Lou and Will were on the beach and she just lets all her walls down and confesses her love for him and that she has known about her plan all along.  That was probably the peak of my hope right at that time that came crumbling down when he said no and that he was still going through with killing himself. I actually had to close the book at that time because I couldn't see through my tears. I really didn't like how she just up and quit right then and stopped talking to Will for those last few days because he really did love her and I'm sure it broke his heart. Something else I didn't like was when Will told Lou that basically she wan't enough to change his mind. Don't get me wrong, I completely understood Will's situation and that it was his choice to end his life but I just thought that he could have let her down a bit more gently than that. At the end when she speeds off to be with him his last day, I still had a little sprout of hope left but of course I knew his decision was final and it was important for Lou to be there with him in the end.
I don't really think I'll be picking up the second book any time soon just because I feel that Will was such a big part of the story for me, I don't want to read it without him. I do hope that Lou solves some problems and lives her life to the fullest in the next book and who knows, I may pick it up in a month or so.
Rating:
5 Stars
Favorite Quotes:
"I will never, ever regret the things I've done. Because most days, all you have are places in your memory that you can go to."
"I just . . . want to be a man who has been to a concert with a girl in a red dress. Just for a few minutes more."
"I thought, briefly, that I would never feel as intensely connected to the world, to another human being, as I did at that moment."