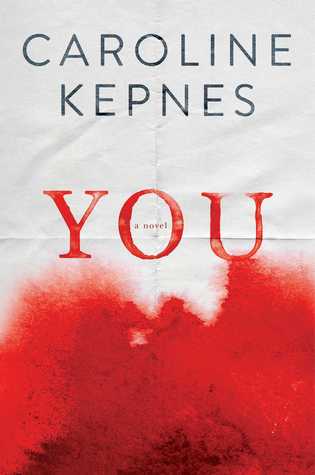 Summary:
When a beautiful, aspiring writer strides into the East Village bookstore where Joe Goldberg works, he does what anyone would do: he Googles the name on her credit card.
There is only one Guinevere Beck in New York City. She has a public Facebook account and Tweets incessantly, telling Joe everything he needs to know: she is simply Beck to her friends, she went to Brown University, she lives on Bank Street, and she'll be at a bar in Brooklyn tonight—the perfect place for a "chance" meeting.
As Joe invisibly and obsessively takes control of Beck's life, he orchestrates a series of events to ensure Beck finds herself in his waiting arms. Moving from stalker to boyfriend, Joe transforms himself into Beck's perfect man, all while quietly removing the obstacles that stand in their way—even if it means murder.
No Spoilers:
I picked up this book knowing nothing about it because I thought it would be a nice contemporary. Obviously I didn't read the entire synopsis… What did really keep me enjoying this book was that it is all told in third person which I guess should be expected from a book named You. I hadn't read many or any for that matter that were told like this was but I wasn't completely sold on it until the thrill kicked in and you could feel the anxiety and panic from the characters at every twist and turn.
This book is over 400 pages and I feel that it could have been trimmed down a bit but there were also so many things happening, it felt a lot longer than it was. I don't read too many thrillers so it was quite refreshing reading one and getting to know these characters. The POV character Joe had humor that made me smile a lot throughout this book and sometimes you couldn't help but just agree at little things he says. Don't get me wrong, he was terrifying due to the lengths in which he goes to stalk Beck and at some points I just wanted to yell at her that he is crazy and she needs to leave.
Overall, this book was a thrill and a roller coaster of feelings the entire time. Don't read this book if you're looking for a romance like I was because this isn't one of those but if you enjoy scaring yourself definitely give it a try.
Rating:
4 Stars
Favorite Quotes:
"If we were teenagers, I could kiss you. But I'm on a platform behind a counter wearing a name tag and we're too old to be young."
"Work in a bookstore and learn that most people in this world feel guilty about being who they are."
"Well, sometimes you just want to go where it's dark, you know?"