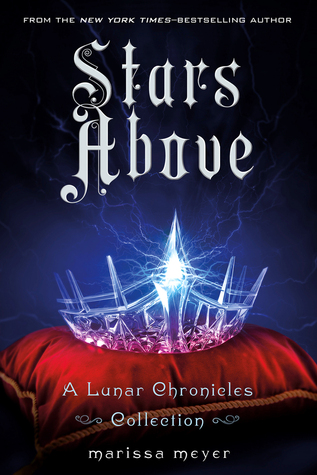 (WARNING: Do not read the summary or review of this book if you have not completed The Lunar Chronicles by Marissa Meyer or else you will be spoiled)
Summary:
The enchantment continues….
The universe of the Lunar Chronicles holds stories—and secrets—that are wondrous, vicious, and romantic. How did Cinder first arrive in New Beijing? How did the brooding soldier Wolf transform from young man to killer? When did Princess Winter and the palace guard Jacin realize their destinies?
No Spoilers:
I have a biased love towards anything Marissa Meyer writes because she is a wonderful person as well as writer. Putting that aside, I really did love every single story in this collection and might have cried a couple times… Almost as much as I did during Winter because you really do get just the right amount of closure for your favorite characters but still have that possibility for a couple more novellas?? Hint hint… I just want more.
Here are my thoughts on my top three stories in this collection;
The Little Android
This is a retelling of The Little Mermaid set in the Lunar Chronicles world. I loved this story because it was about an android who had a glitch in her personality chip much like Iko, and how she is faced with the hopeless fact that she is in love with a human and how she just wants to be part of his world.
The Princess and the Guard
This is the story of Winter and Jacin's childhood together as well as the full story telling why Winter chose to be better than her power and made the promise to herself that she would never again use it. I loved the entire Winter book because of the focus on this relationship and their love for each other and in this story you get even more of it!
Something Old, Something New
Oh the one story I've been waiting for until it was announced. I wouldn't dare spoil you on the wedding taking place here because I found the anticipation fun myself. This story was so much fun and seeing all my beloved characters together again made my heart all warm and fuzzy ❤
Rating:
5 Stars
Favorite Quotes:
"I will accept any amount of monsters my mind wants to give me, but I will not become a monster myself."
"The first time, he had wondered why she liked books so much, and if it had anything to do with why he liked spaceships. Because they could take you somewhere far, far away"
"But was the woman's death the tragedy, or her life?"