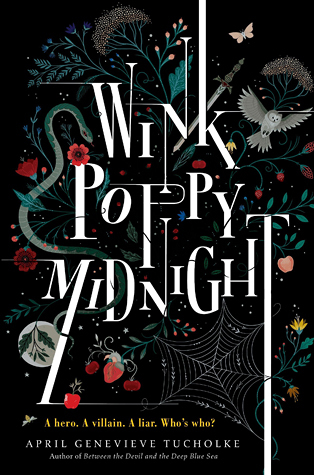 Summary:
Every story needs a hero.
Every story needs a villain.
Every story needs a secret.
Wink is the odd, mysterious neighbor girl, wild red hair and freckles. Poppy is the blond bully and the beautiful, manipulative high school queen bee. Midnight is the sweet, uncertain boy caught between them. Wink. Poppy. Midnight. Two girls. One boy. Three voices that burst onto the page in short, sharp, bewitching chapters, and spiral swiftly and inexorably toward something terrible or tricky or tremendous.
What really happened?
Someone knows.
Someone is lying.
Goodreads – BookDepository
No Spoilers:
This book was so good and intriguing I couldn't put it down all day! I couldn't help but feel as if I was dreaming all through this book and I can really appreciate authors who have that capability. April's writing is so rhythmical and magical you feel as though you've known these characters your entire life. You understand them, their choices, and their personality.
I loved reading about these three characters and going through their story along side them. We have Midnight, the boy caught in the middle of two different types of girls, Poppy, the all mighty Queen Bee who has desires deep within, and my personal favorite Wink, a quiet farm girl who believes in spirits and the power of stories. You're never quite sure who's the hero, the villain, or the secret and I love how it always keeps you guessing. Anyone who is a fan of books like Glory O'Brien's History of the Future or The Darkest Part of the Forest.
Rating:
4 Stars
Favorite Quotes:
"Leaf once told me that there was absolutely no difference between the Orphans' fairy tales and the nose on my face, because both were only as real as I thought they were."
"Wink wasn't a villain.
She wasn't a hero.
People aren't just one thing. They never, ever are.
Wink was flesh and blood.
She was bad.
And she was good.
She was real."
"All the strangest things are true."