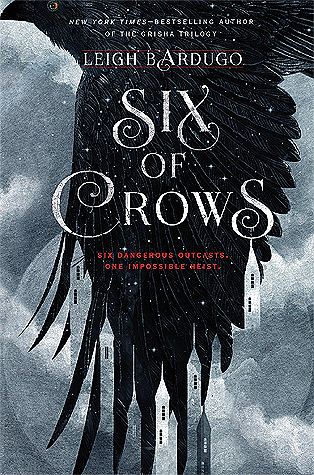 Summary:
Ketterdam: a bustling hub of international trade where anything can be had for the right price—and no one knows that better than criminal prodigy Kaz Brekker. Kaz is offered a chance at a deadly heist that could make him rich beyond his wildest dreams. But he can't pull it off alone…
A convict with a thirst for revenge.
A sharpshooter who can't walk away from a wager.
A runaway with a privileged past.
A spy known as the Wraith.
A Heartrender using her magic to survive the slums.
A thief with a gift for unlikely escapes.
Kaz's crew are the only ones who might stand between the world and destruction—if they don't kill each other first.
Goodreads – BookDepository

No Spoilers:
This book was beyond fantastic! I loved every single one of the characters in this story and ugh I just love them so much. I listened to just about all of this as an audiobook and I know I don't listen to books that often but the narration was just so good. The women's parts in particular were amazing and I loved listening to it.
I read The Grisha Trilogy earlier this year and found the world to be so so interesting and I couldn't wait to read this story. That being said, it took me forever to finally pick this up and when I did I stopped 250 pages in. Honestly I have absolutely no idea why because it was amazing. Anyway, I'm glad I finally restarted it and got to actual pay attention to each character. Listening to the histories of the characters and their individual stories are sometimes heartbreaking and sometimes heartwarming. Just be prepared for feels. Lots of feels. In my opinion I thought there was a lot less world building than there was in The Grisha Trilogy but I don't completely remember so don't hold me to that. Regardless, you quickly pick up on the history and different countries in this world. If you've read The Grisha Trilogy but are on the edge of starting this book, I think you should definitely give it a try because it really is a ton of fun and I prefer it over the other books.
Spoilers Ahead:
Okayokayokayokayokay I'm okay… Not really though. Kaz's story was one of the heartbreaking ones of the bunch. Well in reality they didn't all have great backgrounds. But anyway, it's easy to understand why Kaz is how he is, all cold and secretive with the others. I am really impressed with Kaz and his ability to come up with plans in such a short amount of time. I am all aboard the Kanej ship right here and throughout the entire story and seeing how they felt about each other and not telling one another just.
So so much frustration. Oh towards the end when he grabbed her hand on the boat and was asking her to stay, my heart was throbbing and I just wanted her to drop her plans or ask Kaz to come be a pirate with her. But nooooo of course no one can live happily ever after and now Inej is gone and I wanna cry. Inej is such an awesome character, I loved her history and I don't know exactly but I guess I just love her humanity and how she does really feel remorse when she kills someone. Nina was another one of my favorite characters, her sass and wildness was the funnest thing to read about.I loved during that flashback scene on the island with Matthias whenever she would make comments and he would get uncomfortable it was great and I can't wait for more of that in the next book. I also ship Jesper and Wylan because how can you not, they have to get together Leigh they HAVE TO!! Hmmm I was very afraid of Matthias when they rescued him. I just hated how he had a blind desire to kill Nina and just no no no no no. Especially towards the end when Nina gets locked in the cell (I so knew that was going to happen nothing ever goes smoothly) and Matthias shows up and says he was on the other side the entire time. I was so so so scared and just wanted them to live happily ever after and then that ends up being part of the plan and I was so relieved, I did not want Nina to have to be under the Jurda Parem shit. Okay we all saw it coming that she was going to have to take it anyway at somepoint although I REALLY didn't want her to. As soon as she saw that empty cage that was waiting for a Corporalnik, I knew something bad would happen. She better be okay. I was really surprised that Jesper was a fabricator and was the one that leaked information to Peka Rollins. I had a mini heart attack after Kaz said he did that because I loved Jesper and he was part of the crew, he grew on me. But I guess he didn't even realize he did that and then I just felt bad for him. Wylan's dad is an asshole and that's all I have to say. At the beginning I though of Wylan as the lost puppy of the group but then he grew into an interesting person. Now that I think about it, I don't think we got very many chapters from his POV. Hmm I hope we do in the next book.
Okay I know I really only talked about the crew in this but I couldn't help it. #SQUADGOALS But really I loved this book immensely and if you want to talk about it with me please do!! No Mourners, No Funerals!!
Rating:
5 Stars
Favorite Quotes:
"Kaz leaned back. "What's the easiest way to steal a man's wallet?"
"Knife to the throat?" asked Inej.
"Gun to the back?" said Jesper.
"Poison in his cup?" suggested Nina.
"You're all horrible," said Matthias."
"No mourners. No funerals. Among them, it passed for 'good luck."
"When everyone knows you're a monster, you needn't waste time doing every monstrous thing."