So I've seen this Top Ten Tuesday thing around on a ton of other blogs and I'm a trend follower so I thought I would do it to. This was created by The Broke and the Bookish and is explained as a weekly meme for people who love lists which I do so perfect! Since this is my first one, I figured I'd do something easy and show you the top ten books on my TBR list. I can't wait to read all of these books and I would love to know if you have read any of them and what you thought. Oh also, I won't be summarizing all of these books because that would take way too long but if you'd like to know more, just click the covers and it will take you to the Goodreads Page.
1. The Raven Boys by Maggie Stiefvater
     So this series is done now and I've been meaning to pick it up forever but I was always iffy about it. I've heard that this book is a million times better than her other series and Since I didn't really enjoy what I read from Shiver, I really do want to see what Maggie's writing is all about and I'm still in the dark about what this book is actually about so that's exciting.
2. Truthwitch by Susan Dennard
     I first heard about this book from Sasha Alsberg from ABookUtopia on YouTube when she was reading it for BookTubeathon last year. I then saw an unboxing from Jessethereader and that's really what made me want to pick it up! I preordered this back in December and I still haven't read it yet *cries*.
3. Lady Midnight by Cassandra Clare
     Who doesn't love the Shadowhunter world? I binge read The Mortal Instruments a couple years ago and fell in love with the world and I still really need to read Clockwork Princess. I'm so excited to get back into this world though and meet a whole bunch of new characters!
4. Soppy by Philippa Rice
     This is one I actually just discovered a few days ago and it just looks adorable. It's a little graphic novel full of cute moments between a couple who just moved in together. I'm excited to flip through this an just have all the cute little feels.
5. The Crown by Kiera Cass
Okay so this isn't necessarily one of my favorite series ever but if you've read it you know that it's like crack. This stuff is addictive and I binged the first four one a day and I had so many feelings. The main girls are always the most annoying things ever but I just have to read the last one. I've went through too much to not read the last one.
6. Daughter of Smoke & Bone by Laini Taylor
     I've been meaning to read this for years now and just haven't gotten around to it. I've been waiting until I owned all of them but so far I only have the second one and I need to at least but the first. I've heard great things about this trilogy and it sounds really exciting and original.
7. Confess by Colleen Hoover
     I've only read one book by Colleen Hoover so far which was November 9th and it was SO GOOD!! I love her writing and characters and as far as I know, her stories are always original. I'm excited to just binge read her books one day, it may kill me.
8. This Savage Song by Victoria Schwab
     The one thing that really drew me into this story was that many people were saying that there is no romance in it and that's a rarity in YA. I've always wanted to read a Victoria Schwab book after hearing all the praise on BookTube and Bookstagram!
9. Welcome to Night Vale by Joseph Fink and Jeffrey Cranor
     I am a huge fan of the Welcome to Night Vale podcast and have been for a few years now. I am super excited to read this book and support this amazing podcast!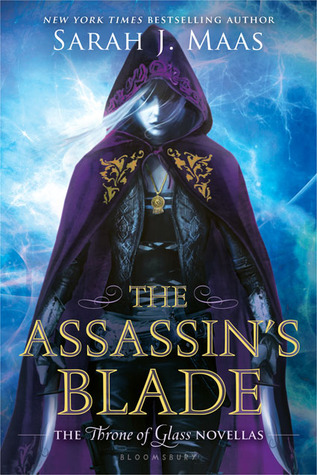 10. The Assassin's Blade by Sarah J. Maas
       Throne of Glass is one of my favorite fantasy series ever and I don't know why I still haven't read this. It was on my TBR for BookTubeathon but I ended up reading something else. I have no excuse for not reading this but I really really need to.
---
I've said this a ton but I really can't wait to get into these books as soon as I can! I'm going to have to clear up some time to read these soon.
What book are you most looking forward to reading? Have you read any of these?