Hello everyone and welcome to the Monthly WWR Digest! I came up with this idea after writing out an entire July Wrap Up post and realizing how boring it looked and it wasn't very fun to write. I'm going to try doing one of these every month depending on how successfully I feel I've read. July was a pretty good month for me so I figured I'd start it now.
July was a pretty good reading month for me because of BookTubeathon and also just really good books found their way into my hands. If you want to know anything about these books, click the covers and it will take you to it's Goodreads page.
A Court of Mist and Fury by Sarah J. Maas – 5 STARS, Review
We All Looked Up by Tommy Wallach – 4 STARS, Review
You by Caroline Kepnes – 4 STARS, Review
Stars Above by Marissa Meyer – 5 STARS, Review
Soppy by Philippa Rice – 5 STARS, Mini Review
Alice's Adventures in Wonderland by Lewis Carroll – 3.5 STARS
Untamed by A.G. Howard – 4 STARS, Review
Wink Poppy Midnight by April Genivieve Tucholke – 4 STARS, Review
Six of Crows by Leigh Bardugo – 5 STARS, Review
Harry Potter and the Cursed Child by Rowling, Thorne, and Tiffany – 5 STARS, Review
I read a total of 10 books this month and I'm super happy with that! I had the absolute worst reading slump that lasted six months so it's nice to be back in the swing of things. My favorite reads this month are A Court of Mist and Fury by Sarah J. Maas and Harry Potter and the Cursed Child by J.K. Rowling, John Tiffany, and Jack Thorne.


I recieved these first two books from a little sale at my library and I was so excited because I've been meaning to buy these for so long just haven't gotten around to it but now I do!!
The Raven Boys by Maggie Stiefvater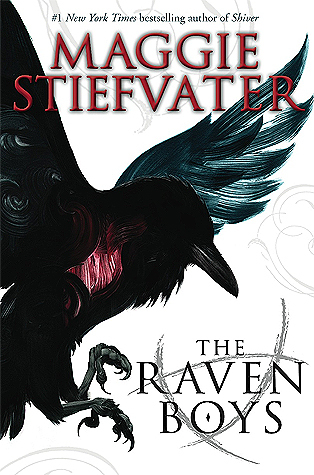 Summary:
Every year, Blue Sargent stands next to her clairvoyant mother as the soon-to-be dead walk past. Blue never sees them–until this year, when a boy emerges from the dark and speaks to her.
His name is Gansey, a rich student at Aglionby, the local private school. Blue has a policy of staying away from Aglionby boys. Known as Raven Boys, they can only mean trouble.
But Blue is drawn to Gansey, in a way she can't entirely explain. He is on a quest that has encompassed three other Raven Boys: Adam, the scholarship student who resents the privilege around him; Ronan, the fierce soul whose emotions range from anger to despair; and Noah, the taciturn watcher who notices many things but says very little.
For as long as she can remember, Blue has been warned that she will cause her true love to die. She doesn't believe in true love, and never thought this would be a problem. But as her life becomes caught up in the strange and sinister world of the Raven Boys, she's not so sure anymore.
Seconds by Bryan Lee O'Malley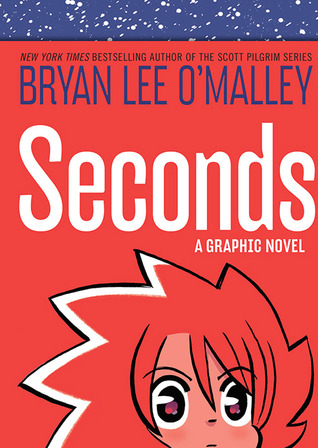 Summary:
Katie's got it pretty good. She's a talented young chef, she runs a successful restaurant, and she has big plans to open an even better one. Then, all at once, progress on the new location bogs down, her charming ex-boyfriend pops up, her fling with another chef goes sour, and her best waitress gets badly hurt. And just like that, Katie's life goes from pretty good to not so much. What she needs is a second chance. Everybody deserves one, after all—but they don't come easy. Luckily for Katie, a mysterious girl appears in the middle of the night with simple instructions for a do-it-yourself do-over:
1. Write your mistake
2. Ingest one mushroom
3. Go to sleep
4. Wake anew
And just like that, all the bad stuff never happened, and Katie is given another chance to get things right. She's also got a dresser drawer full of magical mushrooms—and an irresistible urge to make her life not just good, but perfect. Too bad it's against the rules. But Katie doesn't care about the rules—and she's about to discover the unintended consequences of the best intentions.
Harry Potter and the Cursed Child by J.K. Rowling, John Tiffany, and Jack Thorne
Summary:
It was always difficult being Harry Potter and it isn't much easier now that he is an overworked employee of the Ministry of Magic, a husband and father of three school-age children.
While Harry grapples with a past that refuses to stay where it belongs, his youngest son Albus must struggle with the weight of a family legacy he never wanted. As past and present fuse ominously, both father and son learn the uncomfortable truth: sometimes, darkness comes from unexpected places.
BookTubeathon 2016
This was my second year participating in BookTubeathon and I think it was just as fun as last years! The sprints and challenges and just everything was so much fun. Read my BookTubeathon 2016 Wrap Up if you'd like to see what books I read and just a recap of the week.
Harry Potter and the Cursed Child was released!!
Oh the long awaited Harry Potter and the Cursed Child was finally released and it couldn't have been a better time seeing the entire fandom unite again. Unfortunately I didn't get the chance to attend a release party but just having it made me happy enough.
I went to target early on the 31st just so I could spend as long as I needed to read it. It actually didn't take that long and I loved it!! Read my review here.
Photos from my Bookstagram
Audiobooks
 I've listened to two audiobooks this month and I'm finding them to be really fun. It's nice to be able to do other things while listening to them and it gives me an excuse to reorganize my bookshelf again.
My Mini Quidditch Ball Set
My boyfriend got me this for our anniversary and I was basically crying with how amazing this is! You can take out the quaffle and bludgers and throw them at people. It also came with a Quidditch poster that is now on my wall and has a nice little glimmer to it.
This was so nice of him and I am so so so thankful to have him! Now off to play a game of mini Quidditch with some pixies.
---
What did you read in July? What was your favorite part of the month?