Hey guys so recently I finished watching the Netflix original, Stranger Things. I know I am basically the last person in the world to watch this show and boy do I regret not watching it sooner! I had no idea what to expect when I started but now I'm hooked. Anyway, here are some books I believe are perfect for the post Stranger Things blues.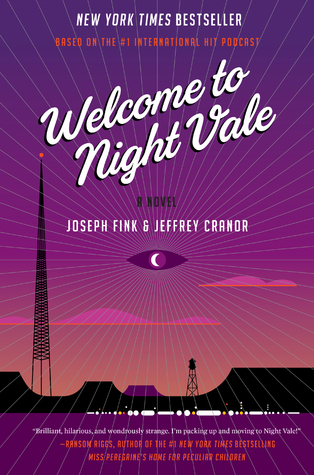 Located in a nameless desert somewhere in the great American Southwest, Night Vale is a small town where ghosts, angels, aliens, and government conspiracies are all commonplace parts of everyday life. It is here that the lives of two women, with two mysteries, will converge.
Nineteen-year-old Night Vale pawn shop owner Jackie Fierro is given a paper marked "King City" by a mysterious man in a tan jacket holding a deer skin suitcase. Everything about him and his paper unsettles her, especially the fact that she can't seem to get the paper to leave her hand, and that no one who meets this man can remember anything about him. Jackie is determined to uncover the mystery of King City and the man in the tan jacket before she herself unravels.
Night Vale PTA treasurer Diane Crayton's son, Josh, is moody and also a shape shifter. And lately Diane's started to see her son's father everywhere she goes, looking the same as the day he left years earlier, when they were both teenagers. Josh, looking different every time Diane sees him, shows a stronger and stronger interest in his estranged father, leading to a disaster Diane can see coming, even as she is helpless to prevent it.
Diane's search to reconnect with her son and Jackie's search for her former routine life collide as they find themselves coming back to two words: "King City". It is King City that holds the key to both of their mysteries, and their futures…if they can ever find it.

This book is based off of the popular podcast Welcome to Night Vale by Joseph Fink and Jeffrey Cranor. I personally love this podcast and it has to be one of the most original creations ever. That being said, I do see a lot of similarities between it and Stranger Things. The overall feeling of curiosity and uneasiness keeps you on your seat with each episode and it always leaves you wanting more. If you love stranger things I really think you should listen to the podcast as well as read the book, it might settle that craving you have for unexplainable mysteries.

Carrie knew she should not use the terrifying power she possessed… But one night at her senior prom, Carrie was scorned and humiliated just one time too many, and in a fit of uncontrollable fury she turned her clandestine game into a weapon of horror and destruction…

Now it's probably blindingly obvious as to why I put this book on here but come on, who doesn't love some good teleckenisis in their horror? This goes out to you Eleven ❤
A mysterious island. An abandoned orphanage. A strange collection of curious photographs.
A horrific family tragedy sets sixteen-year-old Jacob journeying to a remote island off the coast of Wales, where he discovers the crumbling ruins of Miss Peregrine's Home for Peculiar Children. As Jacob explores its abandoned bedrooms and hallways, it becomes clear that the children were more than just peculiar. They may have been dangerous. They may have been quarantined on a deserted island for good reason. And somehow—impossible though it seems—they may still be alive.

We can all agree that Eleven is a pretty peculiar child and just as lovable as the characters in this series by Ransom Riggs. It's full of peculiars, alternate dimensions (sorta), and some creepy ass monsters much like the ones we know from Stranger Things. It's nice to think of Eleven living in this world rather than the one she grew up in. My poor cinnamon roll.

It's an oppressively hot and sticky morning in June when Sterling and her brother, Phin, have an argument that compels him to run into the town swamp—the one that strikes fear in all the residents of Sticks, Louisiana. Phin doesn't return. Instead, a girl named Lenora May climbs out, and now Sterling is the only person in Sticks who remembers her brother ever existed.
Sterling needs to figure out what the swamp's done with her beloved brother and how Lenora May is connected to his disappearance—and loner boy Heath Durham might be the only one who can help her.

This book will completely satisfy your need for creepy places that take loved ones, and creep people who cover it up. This story was so thrilling and always keeps you guessing. Small town mysteries are possibly some of the quickest reads to get through, you'll be glued to it happily.
---
Well that's about it for this book recommendation, I hope you have a spooky night and try not to sleep upside down or anything
#BarbDeservedBetter