DO NOT READ THE SUMMARY OF EMPIRE OF STORMS BY SARAH J. MAAS IF YOU HAVE NOT READ THE PREVIOUS BOOKS IN THE SERIES. NO ONE LIKES SPOILERS.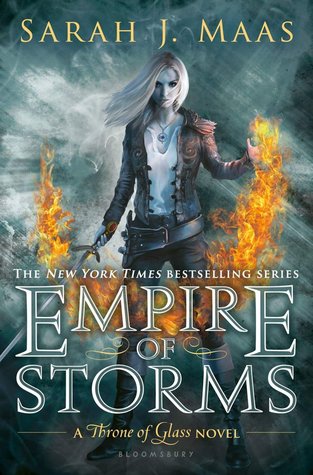 The long path to the throne has only just begun for Aelin Galathynius. Loyalties have been broken and bought, friends have been lost and gained, and those who possess magic find themselves at odds with those who don't.
As the kingdoms of Erilea fracture around her, enemies must become allies if Aelin is to keep those she loves from falling to the dark forces poised to claim her world. With war looming on all horizons, the only chance for salvation lies in a desperate quest that may mark the end of everything Aelin holds dear.
Aelin's journey from assassin to queen has entranced millions across the globe, and this fifth installment will leave fans breathless. Will Aelin succeed in keeping her world from splintering, or will it all come crashing down?
I apologize if this review is spotty and not very good, I'm currently at the peak of a nasty cold. But yea, This book probably took me a total of two months to read. It wasn't bad or anything but you know, reading slumps suck. Anyway, in my opinion this story started out kind of slow but that might have been because of my slump. We learn quite a lot about new and old characters in this book and are constantly being thrown into surprise situations which you know, isn't always fun. I really don't have much non spoilery stuff to say because just so much happens. I will say that I didn't really start getting into it until there were only 200 pages in it and I started to actually remember the previous books and events in them. Overall, it's a good read if you've read the previous 4 and I assume if you have then you'll be reading this regardless.
Now to get into the fun stuff. First of all, there are so many ships in this series now, at least a total of 5. Lets talk about Elide and Lorcan. At first I didn't ship this at all but as the story started going, and that scene in the ruins oooooooooh that was almost great. Rowan and Aelin were pretty great together and who wasn't just waiting for Aedion and Lysandra to kiss!! I loved how we got to see the couples in this book even if some didn't end all that well. *cough cough* Lorcan is stupid *cough cough*
There was a few things I didn't love about this book either, mostly the serious lack of Chaol my love. But yea he was only even mentioned probably 3 times through the whole thing and I kept waiting for him to show up randomly. I better see a ton of him in the last book or I will be very disappointing. Another thing was that I felt that the mains were constantly running into battles one after another without much break. I think I sat down at one point and read through about three different ones against the same people. I also felt that Aelin was one of my least favorite characters, there are just so many others that I love to death like Manon and Lysandra, I'd read their chapters for hours.
Last thing I want to talk about, the classic S.J. Maas way of warming lour hearts with touching moments and wonderful characters just to rip them away. Okay by the end of the story I was hardcore shipping Elide + Lorcan and then Sarah just has to go and let Lorcan F up a bunch of crap and ruin their relationship that I LOVED. How rude… Rowan and Aelin too, at the end we have a very ACOMAF moment when we find out that they are mates and married a couple days prior to Maeve coming and ruining everything. Seriously, all I could think of was the end of ACOMAF and the parallels.
I did have a great time reading this book and I am definitely looking forward to the last installment in the series. Although I didn't love this one as much as Queen of Shadows, I know it was set up for the epic finale to one of my all time favorite series.
"The world will be saved and remade by the dreamers."
"Aelin Galathynius had raised an army not just to challenge Morath, but to rattle the stars."
"It is not such a hard thing, is it – to die for your friends."
"War is sanctioned murder, no matter what side you're on."