2016 is finally over and so brings the end to another year of reading. I will admit that this year was definitely not the best year I've had reading but I did read a few books that were absolutely amazing. I read a total of 30 books which met my reading goal of 30 books (how convenient) but hopefully I can get that goal back to 50 in 2017. I didn't get to a lot of the books I was anticipating this year because of school and such but those will of course be some of the first ones I read in the upcoming year.  You can check out my Goodreads Reading challenge here if you want to see all the books I read this year. So without further ado, here are my favorite books of 2016.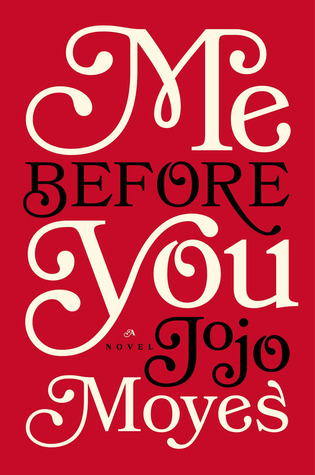 Me Before You by Jojo Moyes still haunts me today even though I read it months ago. My heart still cracks whenever I think about this book but also warms up thinking about all those cute moments. I didn't really know if I'd like this book  before I started reading it but everyone was so excited about the movie that I had to pick it up. Now I think romance is one of my guilty pleasures (considering I've spent the last 3 days watching chick flicks in bed). I mean who doesn't love a beautiful romance? Anyway, I knew I wouldn't hate it but I also didn't expect to love it as much as I did. I only just saw the movie a couple days ago, yea I know I'm totally up with the times, but I cried probably as many tears as I did while reading the book. I still refuse to read the second one though. You can read my review here if you'd like, I go into more detail about why this book is so fantastic and one of my favorites.
Six of Crows by Leigh Bardugo was one of those books that I tried reading a couple times but just kept getting distracted from. The first time I tried, I read 100 pages which were amazing but of course my reading slump got the better of me. I finally listened to the entire book and let me just say, HOLY CRAP the audiobook is so amazing! The voices and feelings are just so evident while listening to it, it's amazing. So I binge read The Grisha trilogy in 2015 I think after this book came out because I thought it would be smart to and I think it was because I had all the knowledge of the different Grisha and the world so it was easier to get into this book. Now I loved this book so much, the entire squad is so lovable and bad ass. Talk about Suicide Squad, this group is even better. I havn't read the second book yet because I'm pretty sure I'm getting it for Christmas but I think I can hold out for a few days. You can also read my review for this book here if you'd like to.
November 9 by Colleen Hoover was such a cute book, I think it goes along with my guilty pleasure romance. Every time I finished reading a little bit of this book I was in such a good mood and just super giddy and happy. It's a great feel good book but of course has some drama and I shed some tears. I absolutely love Colleen Hoovers writing and I can't wait to read more by her. The relationship in this book is so so so good and I've heard that her other books are just as amazing. I hope I get to read more by her in this upcoming year! I have a review here for this book and please tell me what Colleen Hoover book is your favorite because I'd really like to know.

A Court of Mist and Fury by Sarah J. Maas is the second book in the A Court of Thorns and Roses trilogy. I am saying trilogy because there will be one more book released in May followed by two novellas! Which I am super excited about!! Now this book has got to be my absolute favorite book of the year. I read A Court of Thorns and Roses last year and thought it was amazing but holy crap when I got my hands on this book? Honestly one of the best books I have ever read. The romance, the characters, the places, everything is just wonderful and just draws you in. I love Sarah's writing style and her ability to expand worlds and history so far and still keep it interesting. All of her books are just fantastic and I just can't get enough of them. You can read my review here, complete with a spoilery section as well as a non spoilery section.
---
And here's to an end to yet another great reading year. I can't wait to read all those new 2017 releases and see what this next year has in store for the book community.
What were your favorite books of 2016?