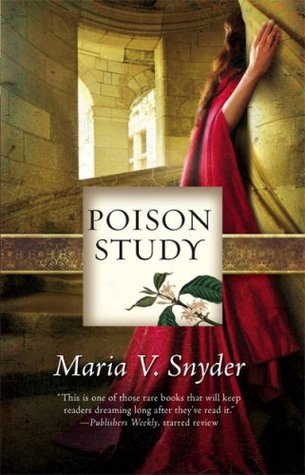 Choose: A quick death…Or slow poison…
About to be executed for murder, Yelena is offered an extraordinary reprieve. She'll eat the best meals, have rooms in the palace—and risk assassination by anyone trying to kill the Commander of Ixia.
And so Yelena chooses to become a food taster. But the chief of security, leaving nothing to chance, deliberately feeds her Butterfly's Dust—and only by appearing for her daily antidote will she delay an agonizing death from the poison.
As Yelena tries to escape her new dilemma, disasters keep mounting. Rebels plot to seize Ixia and Yelena develops magical powers she can't control. Her life is threatened again and choices must be made. But this time the outcomes aren't so clear…
The main character in this story Yelena has got to be one of my favorites I've read about in a long time. She has such great character development throughout the story and you always want to give her props for dealing with everything thrown at her. The best part of this entire book was Valek, he is the master of poisons and the commanders best friend which makes for an interesting character all in it's own. Honestly you just can't help but swoon over him the entire time. The relationship between him and Yelena is refreshing because it's not the main focus and they both know that there are important things that need to be dealt with first. Being able to read the development of their relationship and see how they show their feeling to one another without letting them get in the way was one of the best parts of reading. The world the Snyder has built has got to be one of the best I've read about in a while. It almost feels like a dystopian (don't worry, not like that) in the way that its the beginning of a new government but with the added bonus of MAGIC!!
Yelena's backstory was something that you always wanted to know more about but the more you learned, the worse you felt for her. I appreciate her motivation throughout the story to not let her past get the best of her and to make the best of the circumstances she is in. If you read this you will not be disappointed with the characters at all I promise, they each are so immensely interesting and lovable in their own ways. I wasn't sure if I was going to go on with this series because of the description of the next book but hey, I've already ordered it and I am too in love with these characters and world to stop now.

5 Stars
"But you've slipped under my skin, invaded my blood and seized my heart."
"What have I earned from you, Valek? Loyalty? Respect? Trust?"
"You have my attention. But give me what I want, and you can have everything."
"Poisoned, pursued and living with a psychopath. Not what I would consider the good life. Death has its perks."