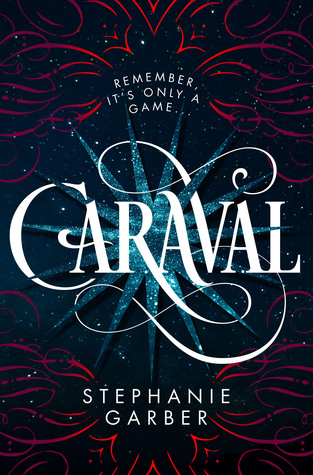 Remember, it's only a game…
Scarlett Dragna has never left the tiny island where she and her sister, Tella, live with their powerful, and cruel, father. Now Scarlett's father has arranged a marriage for her, and Scarlett thinks her dreams of seeing Caraval—the faraway, once-a-year performance where the audience participates in the show—are over.
But this year, Scarlett's long-dreamt-of invitation finally arrives. With the help of a mysterious sailor, Tella whisks Scarlett away to the show. Only, as soon as they arrive, Tella is kidnapped by Caraval's mastermind organizer, Legend. It turns out that this season's Caraval revolves around Tella, and whoever finds her first is the winner.
Scarlett has been told that everything that happens during Caraval is only an elaborate performance. Nevertheless she becomes enmeshed in a game of love, heartbreak, and magic. And whether Caraval is real or not, Scarlett must find Tella before the five nights of the game are over or a dangerous domino effect of consequences will be set off, and her beloved sister will disappear forever.
Welcome, welcome to Caraval…beware of getting swept too far away.
Let me start out by saying that even though the hype for this book was so high, I really did enjoy every minute of this story! It reminded me ever so slightly of Heartless by Marissa Meyer mostly do to the amazing lovable characters, character development, vivid scenery, and plot. I wasn't too fond of the characters to start off but they grew on me more and more as the story went on. I loved the sister relationship in this book, it was always Scarlet's first priority to find her sister and I found that something rare in YA these days. Caraval was such an interesting event in itself and being able to solve the mysteries alongside the characters was honestly so much fun. The scenery and history of Caraval was so interesting to imagine and just made it so magical it felt like you were reading a dream that you wanted to get to the real end of. I haven't read an adventure like this for a while and I'm glad I listened to the hype surrounding this book.
This story was so full of twists and turns and you never know who to trust. It really was just so much fun to experience Caraval with these characters and I hope you decide to experience it too!

4.5 Stars
"Every person has the power to change their fate if they are brave enough to fight for what they desire more than anything."
"She imagined loving him would feel like falling in love with darkness, frightening and consuming yet utterly beautiful when the stars came out."
"Hope is a powerful thing. Some say it's a different breed of magic altogether. Elusive, difficult to hold on to. But not much is needed."