Hello there beauties! This is the first post in my Mini Reviews series. I got this ides from It Starts at Midnight and thought it would be a perfect way to review some books that don't really need a full review. I'm going to try and review a couple books at a time on each of these posts and I hope you enjoy!
Soppy: A Love Story by Philippa Rice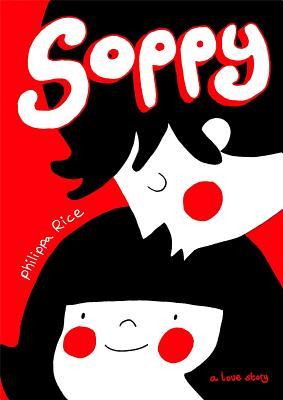 Summary:
True love isn't always about the big romantic gestures.
Sometimes it's about sympathizing with someone whose tea has gone cold or reading together and sharing a quilt. When two people move in together, it soon becomes apparent that the little things mean an awful lot. The throwaway moments in life become meaningful when you spend them in the company of someone you love.
This is a graphic novel full of cute little moments between a couple who just moved in together. It is based off of the life of the author Philippa Rice and is seriously one of the most adorable things I've ever read. The illustrations are all in black, red, and white and I love when books have those kinds of pictures in them.
I loved imagining myself moving in with someone I love and picking out the situations that seemed would be the most likely to happen. I just get really happy feely after looking through this book and just uuuuugh it's so adorable! You should definitely check this out if you love cute romances or are in love with someone. It's nice to see a couple getting to know each other in a new way and learn to love the others quirks and habits.
---
Welcome to Night Vale by Joseph Fink and Jeffrey Cranor
Summary:
Located in a nameless desert somewhere in the great American Southwest, Night Vale is a small town where ghosts, angels, aliens, and government conspiracies are all commonplace parts of everyday life. It is here that the lives of two women, with two mysteries, will converge.
Nineteen-year-old Night Vale pawn shop owner Jackie Fierro is given a paper marked "King City" by a mysterious man in a tan jacket holding a deer skin suitcase. Everything about him and his paper unsettles her, especially the fact that she can't seem to get the paper to leave her hand, and that no one who meets this man can remember anything about him. Jackie is determined to uncover the mystery of King City and the man in the tan jacket before she herself unravels.
Night Vale PTA treasurer Diane Crayton's son, Josh, is moody and also a shape shifter. And lately Diane's started to see her son's father everywhere she goes, looking the same as the day he left years earlier, when they were both teenagers. Josh, looking different every time Diane sees him, shows a stronger and stronger interest in his estranged father, leading to a disaster Diane can see coming, even as she is helpless to prevent it.
Diane's search to reconnect with her son and Jackie's search for her former routine life collide as they find themselves coming back to two words: "King City". It is King City that holds the key to both of their mysteries, and their futures…if they can ever find it.
I've been a fan of the Welcome to Night Vale podcast for years now and I was so excited to read this book when it was announced.
Sadly, I didn't enjoy this book as much as I thought I would. I was listening to the audiobook and although it was awesome that they had Cecil as the voice of the book, I just didn't enjoy the story. I found myself getting distracted from the audiobook and thinking about other things which hasn't happens with other stories.  I think it was really hard for a reader to connect with anyone and I know that the whole basis of the podcast as well as the book is that nothing in Night Vale is normal but seriously I hate saying this but I started to get sick of all the weirdness and that's something that I NEVER say. It started to become a chore to finish this but I powered through. It really sucks that I didn't love this book but maybe future books will be better and more entertaining.
---
Have you read either of these books? What did you think?